GRP RUDDER BAR
The new JEFA drawbar is made of vacuum-treated glass resin with a foam core which guarantees a reduced weight of 1.75 kg and high strength.
The bar is finished with black paint with high resistance to sunlight, it is developed with a rectangular base 62x45mm ideal for the JEFA rudder head and it has a maximum length of 110cm with a comfortable oval handle
30x40mm that already provides housing for the attachment of the extension.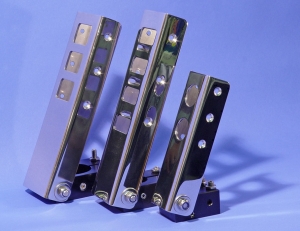 Head for rudder bar
The U-profile for the bar is made of AISI 316 stainless steel, while the block can be made of 6082 aluminium (AlMgSi1) or bronze (add BR to the code).
The height of the bar is adjustable by means of the appropriate screws.