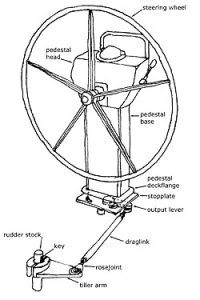 Principle of operation
The "RP" bevel gear steering systems integrate the reduction system inside the column head, thanks to the bevel gear mounted directly on the steering shaft and the toothed sector of the vertical drive shaft.
This rotational movement is then easily transmitted to the rudder shaft via two arms and a connecting rod.
The "RP" system is available on the columns series 100, 150, 200, 300 and 400 for boats up to 50 feet.
Advantages:
The great advantage of this is the variable gearing: thanks to the two arms of different lengths, the system becomes progressively more and more geared as the rudder angle increases.
The whole system, being mounted on bearings, is extremely direct and sensitive.
Installation is very simple, especially when the direct passage of the connecting rod is possible.
Jefa quality:
– No fixing screws are visible from the outside.
– Toothed sector machined from solid and screwed on the vertical transmission shaft of large diameter.
– No internal welding.
– Lower bearing on rollers in Delrin.
– Height-adjustable output arm, splined with double key.
– Possibility of installing the appropriate Jefa integrated autopilot actuator: see page 29.
Accessories for RP systems:
Plate with limit switch
It is always essential that the rudder has appropriate and robust end stops. In addition, it is always advisable to install a stop plate under the column. The Jefa end stop plate is specially designed for "RP" systems, has a protractor and is adjustable by 25° depending on the distance between the axle and rudder and the column.
Connecting rod
Made of high strength anodized aluminium, it is complete with interchangeable Delrin joints for 16mm pins.
It is adjustable for 100 mm on the length.
External diameter 25 mm for lengths up to 600 mm.
Outer diameter 30mm for longer lengths.
Rudder arm and autopilot arm
For greater strength Jefa arms are machined from solid and welded.
They are complete with ½" diameter hole for autopilot and 2 M4 threaded holes for the boom angle sensor. The groove for the key and reaming can be performed at the diameter specified by the customer.
Lower shaft extension.
It consists of two concentric tubes, mounted on a self-aligning lower bearing. It does not require any special adaptation to the colum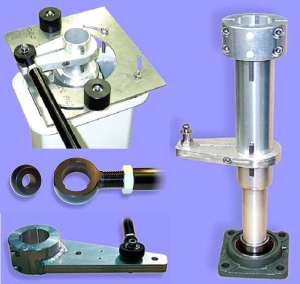 n.