Compasses
After a careful selection, Jefa chose the French Plastimo compasses for its columns.
These compasses boast an innovative design, excellent quality and a worldwide service network.
The price of the compass includes the preparation of the appropriate holes in the head of the column.
Cockpit tables and glass holders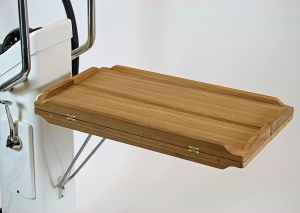 The teak cockpit table measures 650×350 mm folded and 560×700 mm when open. The table assembly and disassembly system is quite simple and fast. The glass holder type 300 can be mounted inside the rail on the columns series 300 and 400. In this way, no sheet can get caught.
Mechanism for motor drive
The control mechanism used is the famous TFX Teleflex. On the 200, 300 and 400 columns the mechanism is fixed to the base and not to the head, thus facilitating the assembly on site.
The control mechanism, contained in its proper box, can be mounted on 100 series columns.
Jefa 150 series – motor control mechanism
The motor control is installed on the 150 Series column. It is advisable to order the mechanism together with the column in order to have the column already prepared. The 316 steel control is included in this option.
Instrument cases